TUI UK LAUNCHES WORKATIONS AND SEARCHES FOR TESTER
TUI UK LAUNCHES WORKATIONS AND SEARCHES FOR TESTERS 
TUI launches workation packages in over 30 selected hotels in Greece, Canaries, Morocco and Jamaica  
Applications open for a workation tester to trial TUI's workation packages 
All-inclusive packages start from £1049 for a fortnight and £1799 for four weeks 
New research shows that 52% of office workers would welcome a workation 
21st September 2021 – As Britain's office staff begin gradually going back into the office after a year working from home and travel being restricted, the UK's largest travel company TUI, launches workations – offering a much needed change of scenery for many Brits who've found themselves confined to the same four walls. 
TUI's workation packages are available at more than 30 4 and 5T all-inclusive  hotels across Spain, the Canaries, Greece, Portugal, Morocco and Jamaica including flights from various regional airports. Every hotel in the collection has been carefully selected to ensure it offers desk space, good wifi and either a balcony or terrace. These hotels are all all-inclusive and have various in resort activities including spas, gyms and daily activities like yoga meaning guests can truly take advantage of working from holiday. Prices start at £1049 for a fortnight, £1349 for three weeks and £1799 for four weeks. 
The move comes as TUI's "work from anywhere" policy introduced back in July saw the company shift to a permanent flexible working approach following the pandemic. According to new research conducted by TUI, 52 per cent of all office staff would welcome such an opportunity and believe it would make them happier and better at doing their job. After so many months of being unable to travel, TUI believes that workations will allow people to boost their productivity as well as improving their wellbeing.  
TUI are running a competition offering one lucky winner the chance to test a workation and share their views. The prize will include a seven-night stay for two in a workation hotel on an all-inclusive basis with flights and transfers included.  
TUI UK & I Commercial and Business Development Director Richard Sofer said: "The pandemic has shown us the benefits of flexible working and following our recent announcement of a shift in how we work as an organisation, we are pleased to be offering workations for customers and colleagues. There's clearly an appetite for workations and as an employer and travel company we want to continue to modernise and offer breadth and flexibility. 
"The pandemic has not only changed the way millions of us work, but it has also changed the way we feel about work-life balance. It has made us realise that life is precious and there to be enjoyed. 
"There's absolutely no reason why workers can't happily combine having fun in a lovely environment with working. Indeed, it's likely that the happier they are the better they will perform and we should embrace this." 
 When not working, guests will be able to enjoy activities offered at the select hotels such as yoga, running clubs, tennis and spa treatments as well as getting out and exploring their surroundings. For those travelling as a family, there are kids clubs available.  
The research also found that the main benefits of a workation would be warm, sunny weather, and having food and drink provided for them were the two top things that workers said would make their work more enjoyable. 
Other key findings from the research included: 
72% of those from London said they would welcome an opportunity to work remotely – far higher than any other city / region. The Welsh were slightly more likely to say no – 46% mentioned this against the national average of 34%  

 
People in Scotland were the most likely to say that their employer would not allow them to work from abroad – 63% mentioned this, along with 60% of those from East Midlands saying the same. Londoners were the most likely to believe they would – 46% compared to the national average of 24%. 

 

Those from London (43%) and the South West (40%) were the most likely to say working from home   had made them want to seek flexibility for future employers.  

 
Top 10 benefits of a workation

 

 

Warm sunny weather

 

 

39%

 

 

Having food and drink all provided for you

 

 

33%

 

 

A view of the countryside (mountains, landscape etc)

 

 

30%

 

 

All-inclusive food and drinks

 

 

30%

 

 

A beach

 

 

28%

 

 

An exciting new town / city to explore

 

 

25%

 

 

A pool 

 

 

23%

 

 

Activities around the area

 

 

19%

 

 

Your bed made and room tidied everyday

 

 

18%

 

 

Evening entertainment

 

 

18%

 

 
-ENDS-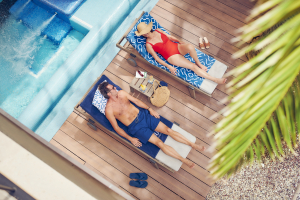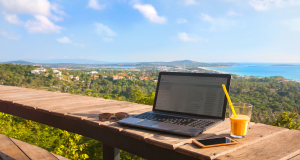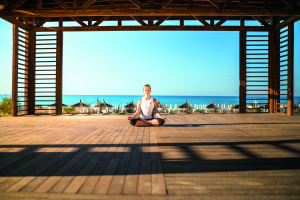 For further information, please contact the TUI press office at pressofficeuk@tui.co.uk  
Notes to editors 
 https://www.tui.co.uk/destinations/info/workation 
 Competition 
Workation tester – the winning applicant will enjoy a seven night workation for two people in one of the workation hotels on an all-inclusive basis. To apply, avid remote workers simply need to tell TUI why they'd be the perfect workationer at https://www.tui.co.uk/destinations/info/workation/competition 
Research methodology  
A online survey was conducted by Atomik Research among 2,006 respondents from the UK, all of whom worked in an office under normal conditions. The research fieldwork took place on 7th July 2021 – 9th July 2021. Atomik Research is an independent creative market research agency that employs MRS-certified researchers and abides to MRS code. 
TUI UK & IRELAND 
TUI UK and Ireland is the UK's largest tour operator. During the COVID-19 pandemic, TUI UK & Ireland's holiday programme has been greatly impacted, and the business has responded by providing flexible options for customers whilst following Government travel advice.  
TUI UK & Ireland has a team of over 9,000 employees and its full holiday programme serves over six million customers each year. As part of TUI Group, it is the business behind the TUI, First Choice, Marella Cruises and Crystal Ski Holidays brands, as well as TUI Lakes & Mountains, TUI Tours and TUI River Cruises, and its hotel brand is TUI BLUE.  
When fully operational, its airline, TUI Airways, operates to over 85 destinations in 38 countries. It was the first airline in the UK to take delivery of Boeing's 787 Dreamliner.