Why you should go on holiday to Austria
Traditional mountain villages, laid-back lakeside towns and musical cities – Austria has it all. We caught up with two of our Lakes & Mountains experts after a tour of the country's best bits, to find out what makes it so special.
WHAT DID YOU LOVE MOST ABOUT AUSTRIA?
Ben: We both loved the scenery. Farming towns are surrounded by lush green landscapes, bright red localbahn trains chug through the valleys, and summer lifts rise up to the top of dramatic mountains. The local people are super friendly too, and many of them dress in traditional clothing like dirndls and lederhosen.
WHERE WAS YOUR FAVOURITE PLACE?
Ben: St Gilgen is a really pretty town with a relaxed holiday atmosphere. You can spend your days sunbathing by the lido, taking paddle steamers across the lake or riding up the cable car. And you can catch the bus to charming Fuschl or St Wolfgang to explore little cobbled streets and pavement cafés, or take a ride in a traditional horse-drawn cart.
Clarice: St Gilgen is my favourite town too. The atmosphere was really chilled and the houses and lake were just beautiful. But the highlight of the area for me was the Kaprun dams, which are right next to Zell am See and Kaprun. The glacial water up there is a bright aquamarine and you're in awe of the huge dam walls. Taking the lift up to walk around them was a lovely way to spend an afternoon, and it means you get to see mountaintops, a glacier and the calm water all in one place.
WHEN IS THE BEST TIME TO GO TO AUSTRIA?
Clarice: If you prefer mild summer days to real scorchers, Austria's perfect. It gets warm but rarely very hot between May and September.
Ben: We went in August and it was a great time to go – not too hot or too busy. And because you're among the lakes and mountains, the air is fresh and really pleasant for walking. Although there's more chance of good weather in August, it's still best to pack for cooler temperatures too. The odd rain shower isn't uncommon in the mountains, but they don't tend to last long. And without the rain, the scenery wouldn't be so rich and colourful.
WHAT'S THE ACCOMMODATION LIKE?
Ben: Lots of the accommodations are traditional guesthouses that offer half board meals. Picture charming wooden buildings with decorative carvings, painted exteriors and flower-filled balconies. And many of them have been run by the same family for generations so the staff are wonderful.
Clarice: They've got a lovely tradition of hospitality in all these villages, so you'll usually get a very personal service and will probably know your waiter's name by the end of the week.
AND THE FOOD?
Ben: It's comforting and delicious. To keep you going all day, try Tiroler gröstl, a typical savoury dish of fried potato, bacon and onion with a fried egg on top. Or if you've got a sweet tooth, you'll love sachertorte – a soft chocolate sponge with a marmalade filling and chocolate glaze. My absolute favourite though was kaiserschmarrn, which is a warm pancake chopped into chunks and served with a tart fruit compote. Some days I just had kaiserschmarrn and coffee for lunch.
Clarice: You could eat dumplings every day in Austria and never get bored. Cheese dumplings, bacon dumplings, dumpling soup, or my favourite, germknödel. It's a soft, round, white dumpling with poppy seeds on top, filled with plum jam and sometimes served with custard.
WHAT IS THERE TO DO IN AUSTRIA?
Clarice: Austria's got some unmissable cities and they're very easy to visit from the resorts. Salzburg was our favourite. It's very compact, with gardens, palaces, a cathedral and a lovely waterfront. It's also the home of Mozart – you can go and visit his birthplace and the little hut where he wrote his masterworks. And The Sound of Music was filmed there too. If you're a fan, there's a tour that'll take you to all the famous scenes.
There's also a strong coffee culture in Austria. Coffee and cake in the afternoon is its own meal, so wherever you are, there's always a café nearby where you can sit with a local sweet treat and watch the world go by.
Ben: Up in the mountains, there's lots of walking and hiking. But if you'd rather take it easy you can go for gentle strolls around the lakes, swim in the cool water and soak up some sun on the shore.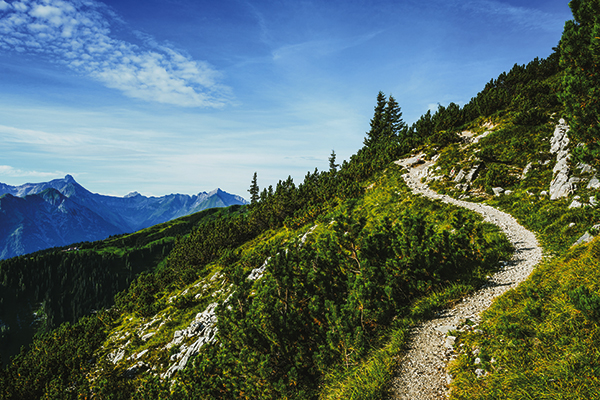 IF THERE'S LOTS OF WALKING, DO I NEED TO BE REALLY FIT?
Ben: Not at all. There are plenty of ways to get around without having to go on a strenuous all-day hike – ride a summer lift up to the peak, glide along the valley on a local train or take a boat trip across the lake.
Clarice: The walks are there if you want to do them – and some of them are very easy – but you still get the same views from catching a lift up and having a little wander at the top.
DO YOU HAVE ANY TIPS FOR SOMEONE PLANNING A HOLIDAY TO AUSTRIA?
Ben: Find out what summer cards are available for your trip. Most resorts have them and some hotels give them to you for free when you stay with them. They'll cover you for use of local transport and you'll also get discounts on local attractions, so you can save your spending money.
Put your best foot forward next summer and see Austria for yourself with Lakes & Mountains.
Pssst. Head to the Discover homepage for our latest articles.