Why you should go on holiday to Poland
Poland is a country of contrasts. The cities mix old and new − trendy boutiques and bars rub shoulders with the Gothic spires of medieval churches. And in the countryside, you can find chocolate-box towns surrounded by dense forests, glacial lakes and rugged mountains. We sent two of our Lakes & Mountains experts to Zakopane and Kraków for a taste of local life.
WHAT DID YOU LOVE MOST ABOUT POLAND?
Alice: It's really pretty and you can enjoy some amazing panoramic mountain views. And everywhere we went the people were so friendly.
Jac: I liked Krupówki high street in Zakopane. There's a bustling market that starts from the funicular and goes all the way uptown. It's all pedestrianised so there are no cars and it's filled with food stands and stalls selling leather coats and hats, as well as traditional crafts.
WHAT WAS YOUR FAVOURITE PLACE?
Alice: I'd say the Tatra mountains – the views from the top are beautiful and you're right on the border so you can see into Slovakia. There are lots of walking paths in the mountains and they're quite easy to reach by riding the Kasprowy Wierch cable car, just outside Zakopane. You can see lots of wildlife too – we saw some wild deer when we were hiking. And of course, if you don't want to walk back down you can take the cable car instead.
Jac: My favourite spot was Czarny Staw Gąsienicowy, otherwise known as the Black Lake. We visited it when we were hiking in the mountains – the still, dark water and misty mountains made it feel really atmospheric. The hike there was good and it was well signposted. You'll need to watch your step though, as the paths were quite rough and uneven.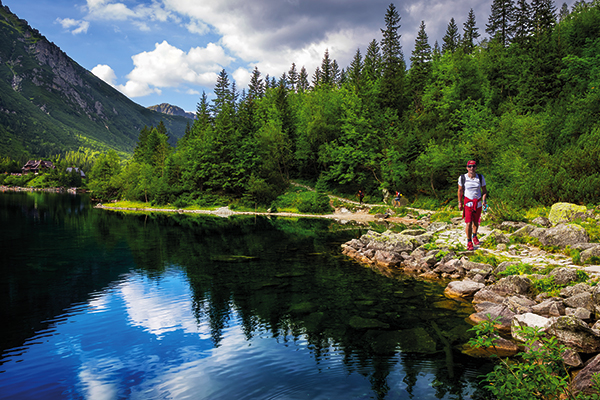 WHAT ELSE IS THERE TO DO IN POLAND?
Alice: Hiking's the main thing to do in Zakopane – it's one of the best places for walking in Poland. Or you can hire bikes and go exploring on two wheels instead. This region's also famous for its thermal baths. The Aqua Park Zakopane has an outdoor pool on the terrace, so you can have a soak while enjoying the mountain views. And horse carriage rides are really popular too. The horses are quite decorative and wear these cute little jackets.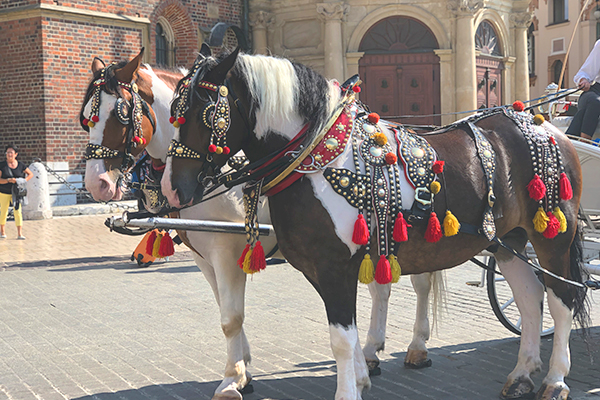 Jac: In Zakopane, you can go rafting on the Dunajec river. It's a traditional wooden raft with someone standing at the back who pushes you along with a pole, kind of like a Polish gondola. Kraków also has some good TUI experiences, like the Wieliczka salt mine, which is one of the most beautiful things I've ever seen. You walk deep underground to reach a huge cathedral where everything is sculpted from salt. And while you're in the city, you should visit a market and look for amber jewellery – it's Poland's signature souvenir.
SO IS THE SCENERY GOOD TOO?
Alice: The countryside is very green, with lots of trees and wooden cottages dotted across the hillside. Herds of sheep and cows wander through meadows sprinkled with purple wildflowers. And in Zakopane, you've got panoramic mountain views all around.
Jac: Kraków is an old city with streets of colourful houses, which reminded me of Norway. In the centre is Rynek Glowny, the biggest square in Europe. And surrounding the old town is Planty Park, a very green and peaceful space in the centre of the city.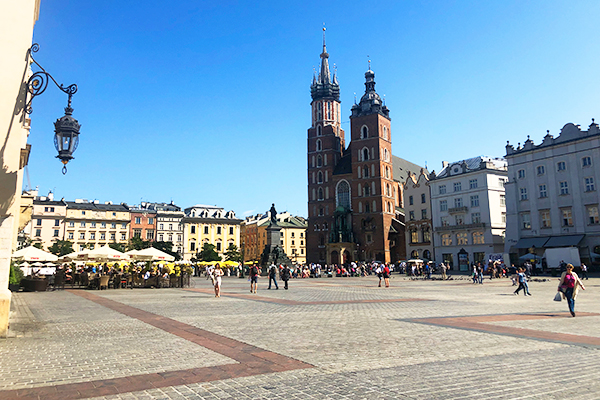 WHEN'S THE BEST TIME TO GO?
Jac: Go during July or August for the hottest temperatures, or at the start or end of summer for warm days and cool nights. We were there in mid-September and it was around 25°C.
WHAT'S THE ACCOMMODATION LIKE?
Alice: In Poland, you can find a lot of spacious hotels that feel quite luxurious, with touches like balconies, chandeliers, marble floors and gold accents. Some of them have really good spas where you can treat yourself to massages and beauty treatments.
Jac: Zakopane has a great range of hotels too – some are really grand, and others have more of a cosy mountain feel.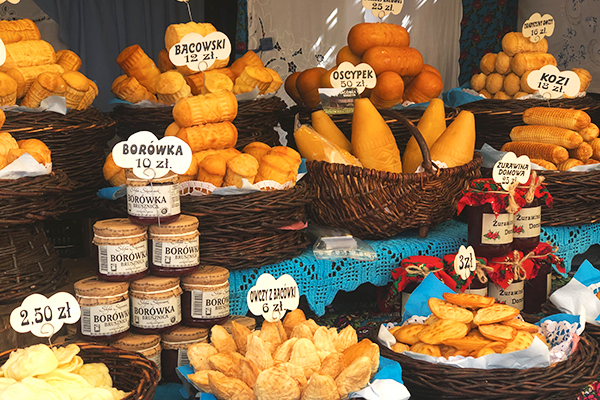 WHAT WAS YOUR FAVOURITE FOOD?
Jac: I really enjoyed trying the Polish food – the potato pancakes were the best thing ever. And when you go to a bar, definitely try some vodka and apple juice.
Alice: Yes, the vodka was really easy to drink. I also enjoyed the traditional sheep's cheese, oscypek, which is a very popular Polish food. We had it pan-fried, so it was a bit like halloumi – crispy on the outside and soft on the inside, and delicious served on toast with some cranberry sauce.
DO YOU HAVE ANY TIPS FOR SOMEONE PLANNING A HOLIDAY TO POLAND?
Alice: I'd definitely bring walking boots. There are lots of great paths, but you need footwear that's comfy and supports your ankles. Zakopane is also quite high up and it can get chilly, so take some extra layers to put on in the evening.
Jac: You should book your cable car rides in advance, so you don't have to queue for tickets on the day. Poland really has a lot to offer, so to make the most of everything you could take a multi-centre trip and visit both Zakopane and Kraków.
Find out more about Poland and start planning your next Lakes & Mountains getaway.
Pssst. Head to the Discover homepage for our latest articles.