Where to eat pizza on Lake Garda
Thick or thin, doughy or crisp – everyone loves pizza. People have been eating flatbreads with toppings for thousands of years, but the modern style was created in Naples in the 18th century. It's now a worldwide favourite but the best place to eat it is still in the country where it was invented. And some of our favourites are found in the traditional towns that line the shores of Italy's largest lake, Lake Garda.
PIZZ&RIO WILLI DE KIS, GARDA
With a vintage tractor parked outside, this place is easy to spot in Garda town. The quirky décor continues inside, where the lampshades are made from steel buckets and the walls are covered with old-school biscuit tins. The food is just as varied as the design, and you can choose from gluten-free pizzas or dough made with wholegrain or kamut flour (an ancient grain with a rich, nutty flavour). Top yours with the house speciality mix – tomato, mozzarella, anchovies, olives and oregano. Or challenge yourself to finish one of their huge calzones stuffed with ham, mushrooms and four types of cheese.
SUD RISTORANTE, RIVA
Sud serves some of the best Neapolitan-style pizzas in northern Italy, with puffy golden crusts, soft middles and a generous sprinkling of toppings. You can't go wrong with a classic Margherita (that's tomato sauce, mozzarella and basil) – but they've also got some wonderful seasonal recipes, like the Trentino pizza with balsamic glaze. The lively atmosphere makes this a fun place to linger in Riva.
RISTORANTE CLASSIQUE, LAZISE
This is one of the best restaurants in Lazise for traditional food and reasonable prices – and the setting is beautiful too. Take a seat in the 19th-century villa, complete with mosaic floors and friezes, or sit out on the raised balcony and watch the sun set over the lake as you dine. They've got all the popular pizzas, from four cheese to Hawaiian – as well as some more unusual flavours, like swordfish carpaccio.
VIVI CAFÉ LA BRASSERIE 15, DESENZANO
If you fancy trying something a little different, this place in Desenzano specialises in pinsa, a thick, oval flatbread invented in Rome. It's made with a blend of flours and uses more water and less salt than pizza dough – resulting in crisp crust and a soft, airy middle. Just like pizza though, it can be finished with an endless variety of ingredients, from simple mozzarella to smoked salmon, pork sausage or pistachios.
CAPRICE PIZZERIA, BARDOLINO
Family-run since 1971, this is the oldest pizzeria in Bardolino – and though the interior now has a fresh, modern look, it's retained its traditional soul through the menu. Classic stonebaked pizzas come heaped with toppings, from ham and cheese to potato and rosemary. Drizzle yours with homemade olive oil and balsamic vinegar, and finish off the meal with an ice-cold glass of homemade limoncello.
LA LOGGIA E LA BARCHESSA RAMBALDI, BARDOLINO
This elegant building dates back to the 1500s but the best place to sit is outside on the terrace, overlooking the lakefront square – perfect for people watching. Start your meal with a wooden wine box filled with fresh bread and bread sticks, with olive oil and balsamic vinegar for dipping. Then go all-in with an XL pizza or pick a few small ones to share. Whatever you choose, pair it with a glass or two of local wine – we recommend the Bardolino Chiaretto rosé.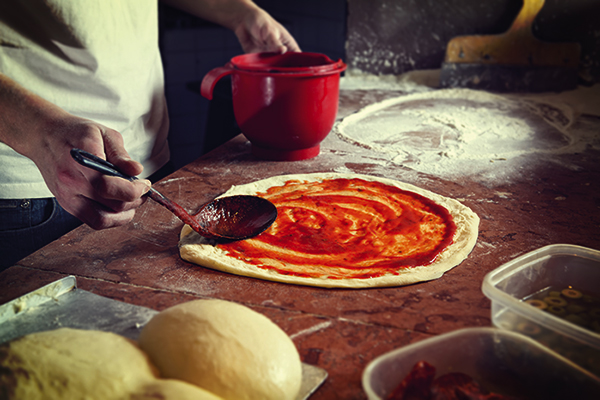 PIZZERIA LA BOA, BARDOLINO
Head here for gourmet pizzas made with the best local produce and perfectly crunchy crusts, thanks to their use of 100% Italian flour. Ingredients include things like speck and brie, or fig, prosciutto and honey. And the décor is just as modern and quirky as the menu – look out for the lights made from soup cans.
Grab a slice of Lake Garda on a Lakes & Mountains holiday next summer. Buon appetito!
Pssst. Head to the Discover homepage for our latest articles.