Our favourite foods to try in Austria
Austrian food is all about traditional recipes and regional produce, so you can look forward to lots of authentic dishes that are bound to put a smile on your face. And the surroundings make every meal extra special too – whether you're enjoying lunch with a view from a mountain hut, tucking into dinner at a family-run hotel or just stopping for coffee and cake in a local café.
Whet your appetite for your next holiday with our round-up of the best food to try in Austria.
Austria's national dish
The humble schnitzel was first created in Vienna in the 19th century and is now the country's national dish. It's a piece of meat that's hammered into a thin fillet, coated in breadcrumbs and fried. These days, restaurants use lots of different meats, from chicken to pork, but to be called a Wiener schnitzel, it must be veal. Get yours with a traditional side of potatoes or potato salad for a simple but delicious meal.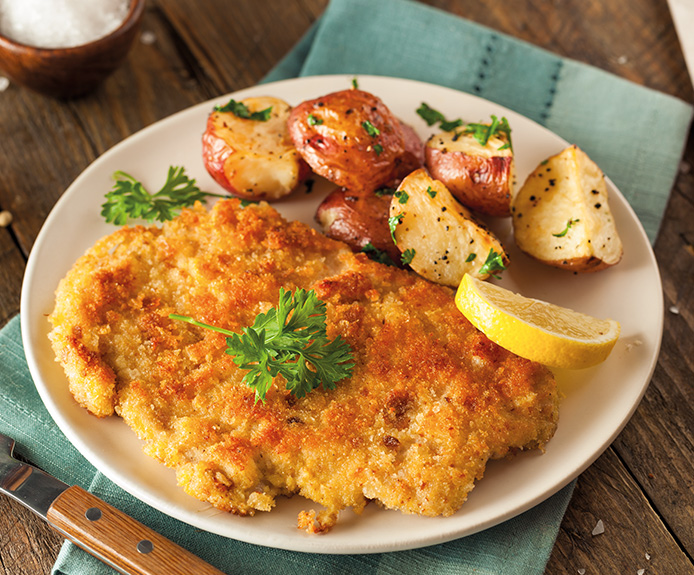 Tyrolean favourite
Austria's take on bubble and squeak, Tiroler gröstl is a staunch favourite in the Tyrol region so you'll find it on most mountain restaurant menus. It's a mix of chopped potatoes, crispy bacon, onions and herbs, topped with an oozing fried egg, and some places add beef too – the perfect filling lunch to keep you going during a day of exploring.
Dumplings for days
Knödel are Austrian dumplings made from flour, bread or potato. They're filled with anything from meat, cheese and vegetables to fruit and nuts – common recipes include speckknödel, which are bacon dumplings served in a stew or soup, and germknödel, which are filled with plum jam and topped with poppy seeds and custard. In St Johann, they even dedicate a whole festival to this culinary staple at the annual Knödelfest in September, where over 26,000 dumplings are dished up.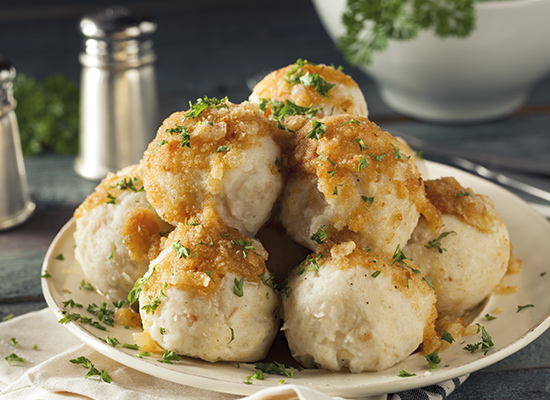 Cheesy indulgence
An ultimate comfort food, spätzle are a kind of egg noodle that have been popular throughout Austria since the 18th century. They can be served with anything from beef stew to apples – one of the best versions is käsespätzle, which mixes the noodles with a creamy cheese sauce and crispy fried onions to make an Austrian take on macaroni cheese.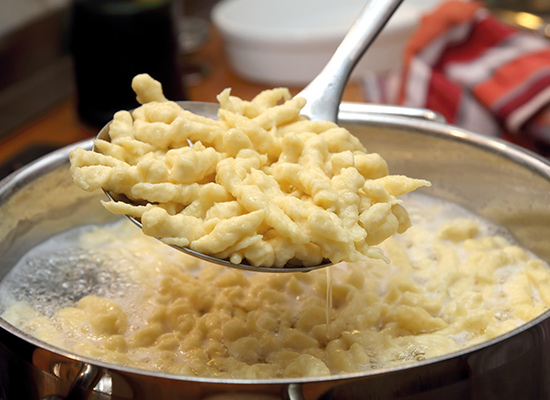 Shepherds' soup
Goulash is a hearty kind of soup that was first eaten by Hungarian shepherds in the 9th century, and is now a firm favourite for Austrians. It generally includes beef, onions, peppers and paprika, and some recipes add things like carrots, potatoes, red wine or other spices too. In Austria, you can often get it with knödel or a few slices of bread for dipping.
Perfect pastry
Strudel's one of the best things to eat in Austria for those with a sweet tooth. To make it, paper-thin sheets of dough are wrapped around a filling of apples, raisins and spices, then baked until golden. It's served with icing sugar and vanilla sauce, whipped cream or ice cream. Tuck into yours on the terrace of a mountain hut or next to a glistening lake, surrounded by beautiful alpine views.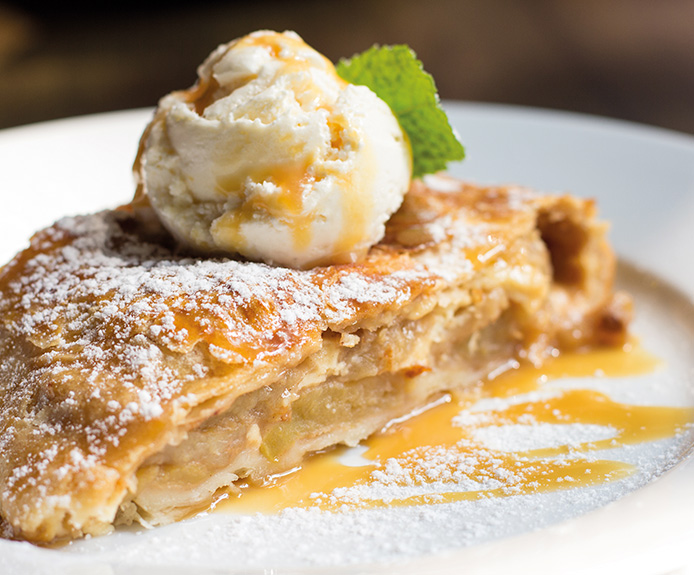 Fit for an emperor
Pancakes are a year-round staple in the Austrian mountains. Named after Kaiser Franz Joseph I, kaiserschmarrn is a thick, fluffy pancake that's chopped up, dusted with icing sugar and topped with fruit compote. It's the ideal dessert for sharing – or you can skip the savoury course and eat it all to yourself for lunch instead.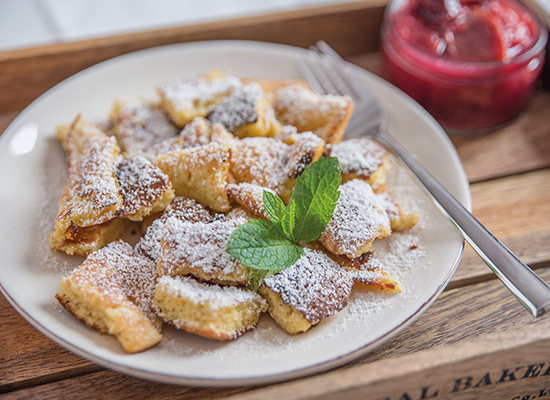 Decadent dessert
For something a little more refined, try a slice of Sachertorte. This rich, dense chocolate cake is coated with a thin layer of apricot jam and smothered in dark chocolate glaze. It was first baked in 1832 at the Hotel Sacher in Vienna, and the original recipe is still a closely guarded secret. Visit the Sacher hotel or cafés in Vienna, Salzburg or Innsbruck to try it, served with whipped cream and enjoyed with a freshly brewed coffee – order a Mokka, a strong black coffee, to keep things authentically Austrian.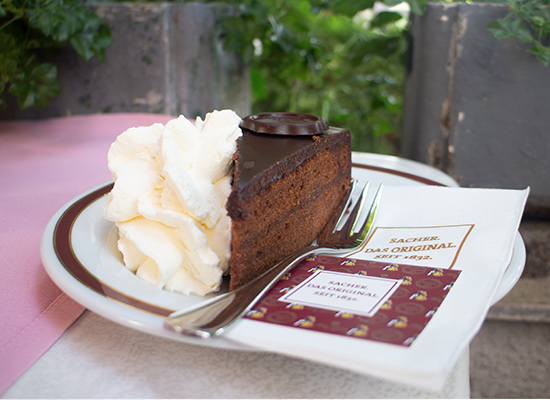 Austrian tipples to try
Raise a glass
There's no better way to toast the end of a good meal than with a shot of schnapps. Austrians have been making it for centuries so they've got it down to a fine art, and it's one of the must-try European drinks. Fruit brandies are the most common variety, using ingredients like cherry, apple, apricot and pear. And herb flavours like gentian are also popular, though the intense bitterness of the gentian plant might be an acquired taste.
Alpine fizz
If you prefer a soft drink, you've got to try Almdudler. Nicknamed the national drink of Austria, this fizzy soda gets its unique taste from the blend of 32 alpine herbs that go into it. Plus, the name comes from a German phrase that means 'yodelling in the alpine pastures' so it's the perfect thing to sip in the mountains.
Hungry for a taste of Austria? Start planning your next Lakes & Mountains holiday and find out about more of our must-try foods in Europe.
Pssst. Head to the Discover homepage for our latest articles.