'Water way' to see the sights: the best Lake Garda boat trips
Lake Garda is dotted with lively towns, Roman ruins and romantic castles – there's so much to fit in, it's hard to know where to start. One of the easiest ways to see it all is to hop on a boat and take to the water. So it's all aboard and anchors up, as we set sail and share some of our favourite boat trips to get around Lake Garda. 
Hop between Malcesine and Limone
At its northern end, Lake Garda is just a few kilometres wide. Separated by this narrow stretch of water are the ancient towns of Malcesine and Limone – and you can explore both on the same day by taking a 20-minute ferry ride between them.
Limone was only accessible by boat until 1932, so you can really get a feel for its secluded location as you float toward the dock. While you're there, stroll along the waterfront to the Spiaggia Cola beach for views of the Monte Baldo mountain range, or head to the lemon garden and find a shaded spot surrounded by fragrant citrus trees. Across the water in Malcesine, walk from the harbour to the Monte Baldo cable car, and ride to the top to get a bird's-eye view of the town.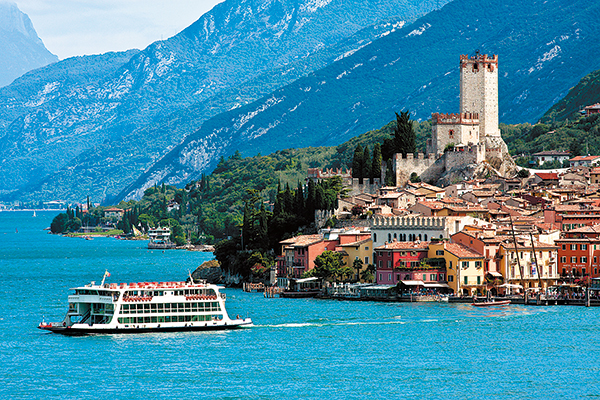 Explore Garda, Bardolino and Lazise
Lake Garda's south-eastern shore is an ideal spot to do some ferry hopping, with three different towns to visit. Each one is just a short boat ride apart, so it's easy to see them all in a day. If you fancy stretching your legs, you could walk between the towns along the lakeside promenade, and then enjoy a relaxing ferry ride back.
In Garda, stroll along bustling streets filled with pavement cafés, gelaterias and stylish boutiques before setting sail. As you cruise down the coast, enjoy views of vineyards, olive groves and lines of poplar trees. Then step ashore in Lazise and soak up some history as you explore the Scaligeri castle and the medieval St Nicolò church. And if Bardolino is your last port of call, try to arrive before the sun goes down. Find a waterfront bar, sit back with a glass of local wine and enjoy some of the best sunset views around.

Discover Lake Garda's largest island
Step aboard a boat in Torri del Benaco, Garda or Bardolino for a 30-minute ride to Isola del Garda – a secluded island just off the lake's eastern shore. There aren't any public ferries, so book a private tour to see it for yourself. It's home to the aristocratic Cavazza family, and every summer they open it up to the public.
There are two different sides of the island to explore. Step ashore and stroll through the terraced, formal gardens before looking around the impressive Venetian villa. Afterwards, head away from the grand house to explore the island's nature reserve – it's a haven for birds, with pathways shaded by oaks, poplars and laurel trees.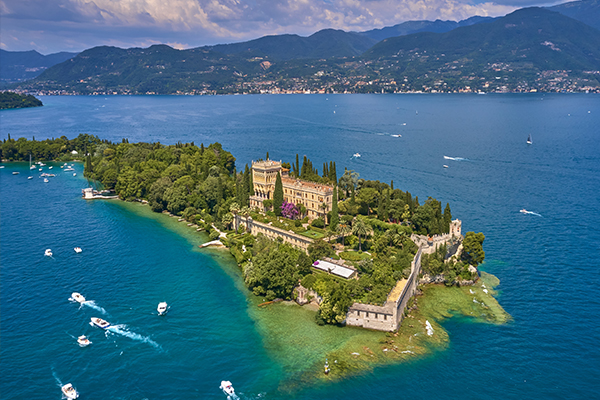 Cruise around the Sirmione peninsula
The headland is famous for its hot springs and Roman ruins – and hopping on a private boat tour is a great way to see the sights. Head to the town of Sirmione and stroll down to the walled castle harbour to start your trip.
Cruise along the coast to the smooth rock shelf of Jamaica beach, where the water has a vibrant turquoise colour. A little farther, at the tip of the peninsula, Sirmione's thermal waters rise to the top of the lake. The underwater jets can reach 69°C and, when the water's calm, you can often spot bubbles popping on the surface. From here, you can also see the ancient remains of the Grottoes of Catullus, where the Romans once built a grand villa and bathhouse.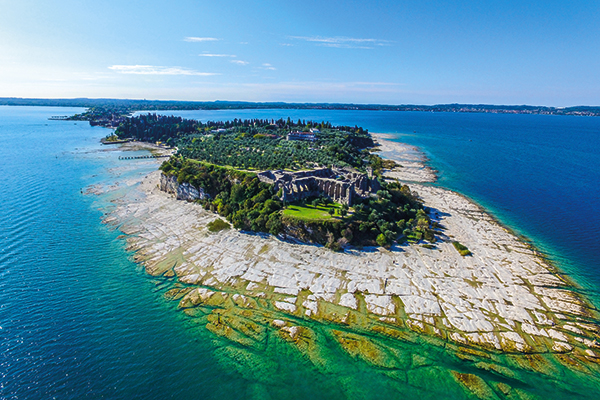 Set sail on the San Nicolò
A traditional wooden yacht, the San Nicolò has been sailing the waters of Lake Garda since 1925. It was originally built to transport goods between the lakeside towns, but nowadays it ferries passengers on sightseeing trips instead.
Itineraries vary, but they all visit scenic spots around the south of the lake – take in the Sirmione peninsula, bob down the coast from Bardolino or set sail on a sunset cruise. On the outside, the boat hasn't changed much since it was built. But inside, there are all the facilities you'd expect to find on a modern yacht. Visit the onboard bar then relax on deck, lulled by the sounds of lapping water and flapping sails.
Hire a boat and go on your own adventure
Fancy weighing anchor and plotting your own course? There are plenty of places around Lake Garda where you can hire a small speedboat.
You'll have to stick to the southern half of the lake because private motorboats aren't allowed north of Malcesine. But having your own boat is a great way to explore at your own pace. And you don't need to have a licence to rent one with a 40bhp engine or less either – just show some photo ID and leave a contact number.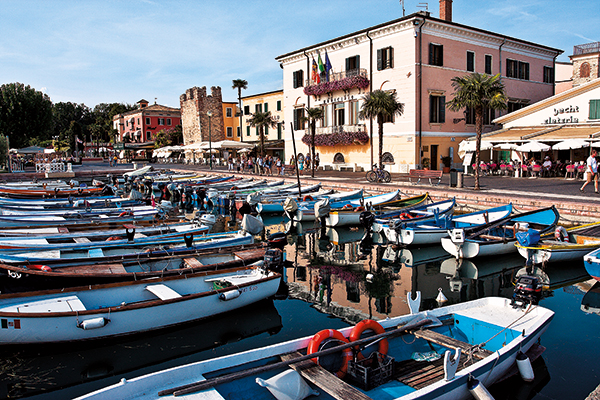 Learn more about Lake Garda or check out our latest deals and get ready to set sail.