Get to know Lake Molveno – Q&A with Jo
One of Italy's most northerly lakes, just above Lake Garda, there's a lot to like about Lake Molveno. It's surrounded by the Brenta Dolomite mountains, so you can relax by the water and enjoy summit views on the same day. And in the small village of Molveno, you'll get a warm welcome and an authentic slice of local culture. We chatted to Jo, one of our Lakes & Mountains experts, to find out why she rates Lake Molveno.
What do you love most about Lake Molveno?
You really have the best of both worlds here – a beautiful lake surrounded by mountains. It's quite small, but I think that's a good thing. You can stay on the lakeshore and still only be a few minutes' walk from the Funivie Molveno gondola. And motorboats aren't allowed on the lake, so it's very peaceful when you head out onto the water.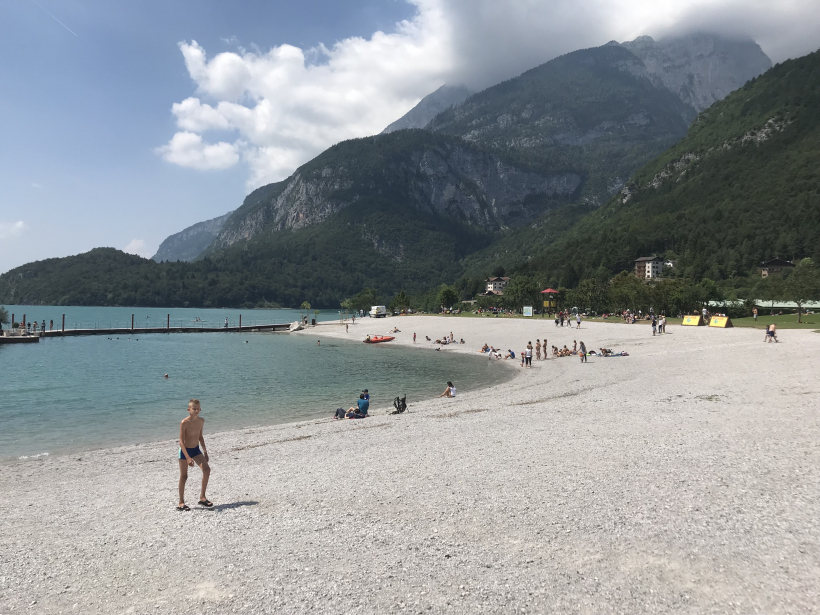 What is there to do in the area?
The lake is sheltered from the wind by the mountains, which makes it great for kayaking and stand-up paddle-boarding. Or if you have a head for heights, you can tackle the high ropes park and via ferrata – a climbing route with metal pegs and ladders fastened to the mountain face – on the high plateau above Molveno.
Families will love hanging out by the lake. There's a sandy beach with waterslides, a bike park, crazy golf and outdoor bowling, so all they have to do is find a spot for the picnic blanket and they'll be set for the day.
Can you walk around the lake?
Yes, there's a well-signposted path that goes around the lake. It's about 12km and is fairly flat, with only one steep section.
Are there any other good walks?
There's a network of walking paths at the top of the Funivie Molveno gondola, which vary in length from all-day hikes to short ambles. And there are plenty of mountain huts dotted about an hour's walk apart, so you're never too far from a place to stop for a drink and admire the views. For a family-friendly outing, follow the scavenger trail at the Malga Tovre educational farm, where you'll learn all about traditional farming in the mountains around Molveno.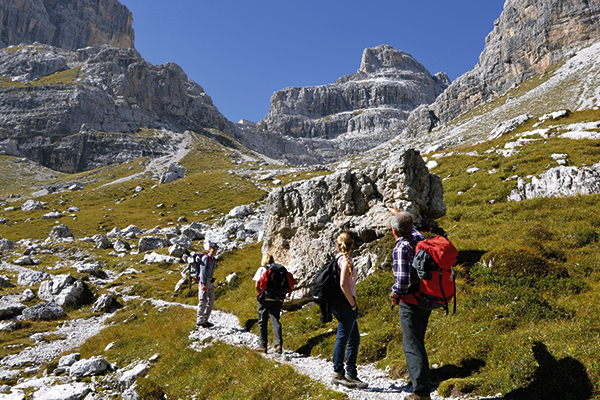 What's the scenery like?
You're in the Brenta Dolomite mountains so you're surrounded by lots of jagged, rocky peaks. The shore of the lake is unspoilt, with steep, wooded slopes that go right down to the water's edge. And because it's very deep, the water has a vibrant blue colour – it's easy to see why it's regularly voted Italy's most beautiful lake.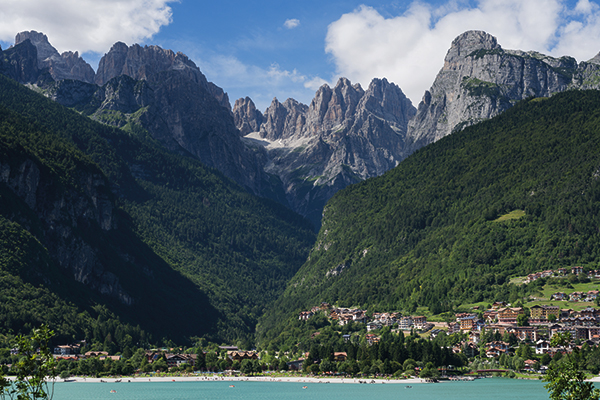 When's the best time to visit?
Plan to visit during July or August to get the warmest temperatures. You're 1,000m up in the mountains, so it doesn't feel humid, but the weather can sometimes be changeable. I visited in July and it was around 25°C.
What are the hotels like?
They're mostly smaller and have a family-run feel. And lots of people come back year after year because of the friendly service and home cooking. Some have a cosy boutique style, like the Alle Dolomiti – picture flower-filled balconies and peaceful gardens − while others are a little simpler. My favourite is the Grand Hotel Molveno, which is just outside the village and feels really secluded. It's surrounded by large gardens, there's an outdoor pool with lake views, and it even has its own private beach.
Can you describe the local food?
Food is a big part of the culture here and they take a lot of pride in it. Traditional Italian cuisine mixes with Austrian mountain cooking, so pizza and pasta are as likely to be on the menu as dumplings and sauerkraut. Whatever you pick, you'll experience the authentic flavours of the region. I like the ravioli filled with fresh wild mushrooms the best.
Do you have any tips for someone planning a trip to Lake Molveno?
There's plenty to do and lots of places to explore here. And everything's easy to get to, so I'd recommend planning to do something different each day. Also, don't forget some extra layers – Lake Molveno is quite high up and it can get chilly in the evenings.
Don't just take Jo's word for it. Find out more about Lake Molveno and start planning your next Lakes & Mountains holiday.