Wild rides and watersports – Family fun on Lake Garda
Enjoy the thrills and spills at some of Europe's best theme parks on a family holiday to Lake Garda in northern Italy. Near the eastern shore of the lake are the country's three biggest parks – Gardaland, Movieland and Caneva Aquapark – with rollercoasters, live shows and plenty of child-friendly activities. And you can make the most of the Mediterranean climate too, with world-class watersports out on the lake itself. Find out more about the things to do on a family getaway to Italy's largest lake.
RIDE THE ROLLERCOASTERS AT GARDALAND
Gardaland is Italy's biggest and most popular theme park and is home to over 35 rides, with three different themes to suit all ages. The Fantasy rides are spot-on for little ones, with things like Peppa Pig Land where they can join Peppa and her pals for a trip aboard a pirate ship or in a hot air balloon. Older kids can head straight for the Adventure and Adrenaline rides. Test your nerves through the twists and loops of the Blue Tornado and Raptor rollercoasters, or hold on tight for the 40m vertical drop on Space Vertigo.
Any Lego fans will love Gardaland's Legoland Water Park. Kids can let their imagination go wild building boats from giant bricks, or explore famous Italian landmarks on the Lego River Adventure. And tiny tots can splash around to their heart's content in the Duplo-themed paddling pools.
Even mealtimes are an experience here, with heaps of themed restaurants to choose from. You can eat pizza at a cowboy saloon, sit down to a royal feast in Merlin's Castle or swing by an Arabian-style palace for a grab-and-go lunch.
As for where to stay, you can't beat a hotel right in the park itself. Pick the themed Gardaland Adventure Hotel or Magic Hotel to stay in an Arctic Igloo, Arabian palace or an enchanted forest. For something more traditional, the Gardaland Hotel Resort has country house-style décor and landscaped gardens. And whichever one you pick, you'll be able to cool off in the enormous Blue Lagoon pool. Or if you prefer self-catering, the nearby Gasparina Village Apartments are a great-value pick.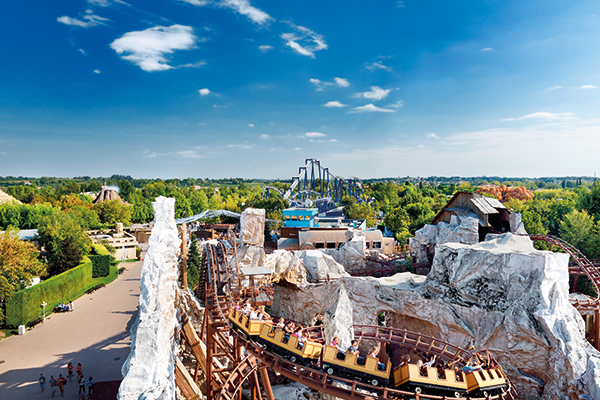 MAKE A SPLASH AT CANEVA AQUAPARK
The whole family's sorted at Caneva Aquapark, whether you want to zoom down waterslides or relax on a beach.
There are over a dozen water attractions to explore, from gentle flumes for little ones to high-speed chutes for teens and adults. The Windy Lagoon is ideal for younger kids with its mini-slides, carousel and water cascades. There'll be laughs all round as you bounce and bump your way down the rapids of the Crazy River in a giant rubber ring. And the Stukas Boom is definitely the one for thrill-seekers – feel the tension building as you stand over a trapdoor, then experience a moment of free fall before plummeting down the near-vertical slide.
The most chilled-out part of the park is the tropical Caribbean Island area, with its white sand, palm trees and warm lagoons. Lie back and soak up the rays on the Playa del Coco beach or let the gentle current pull you along the Lazy River. You could even book your own beachside cabin and enjoy waiter service while the kids splash in the shallows nearby.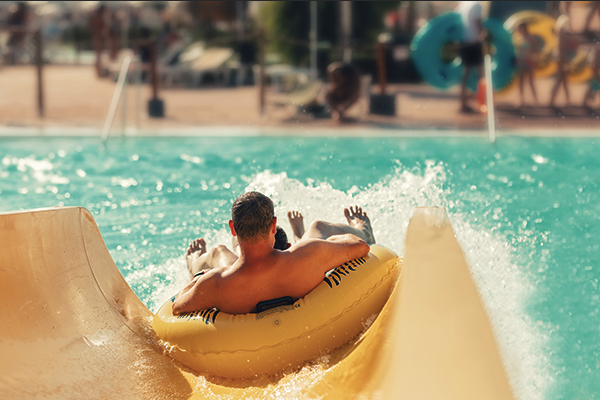 LIGHTS, CAMERA, ACTION AT MOVIELAND
Italy's take on Universal Studios, Movieland is filled with impressive sets where a team of over 40 actors stage live-action shows. You'll get a behind-the-scenes look at how stunts are performed at the Overdrive show – the director might even ask you to take a starring role in the shoot. And for full-throttle fun, you can't beat the explosions and special effects of the U.S. Army Stunt Show, where you'll watch John Rambo battle it out with masked baddies. Then there are parades celebrating the golden age of Hollywood films and musicals, with tunes you just have to clap along to.
Between the shows, you can explore over 20 attractions that put you at the heart of the action. Watch out for dinosaurs as you bump through the jungle in a jeep on Expedition Pangea. Kids will love getting behind the wheel of a child-sized speedboat over at the Kitt MiniJet water race track. And any teens with a need for speed should check out the Diabolik Invertigo rollercoaster – a white-knuckle ride that flies through the air both forwards and backwards.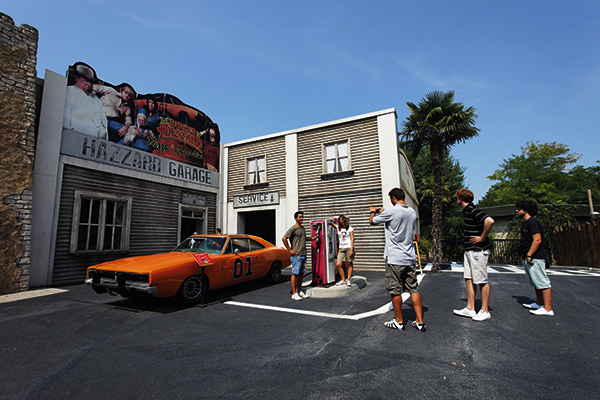 HIT THE LAKE FOR WATERSPORTS
For a different kind of family fun, you can enjoy some action out on Lake Garda. The north of the lake is famous for its excellent wind conditions and is one of Europe's top spots for watersports. Older kids and parents can get stuck in with windsurfing and sailing school in Malcesine, Torbole and Limone.
If you're staying around the south of the lake, head to Camping Serenella for some high-speed thrills, with banana boat rides for bigger kids and tubing for the little ones. Or you can slow things down a notch and find out who has the best balance with some stand-up paddle boarding. And bobbing around on a pedalo is always a fun way to spend an afternoon – some of them even have slides too, so you can whizz down into the lake for a swim.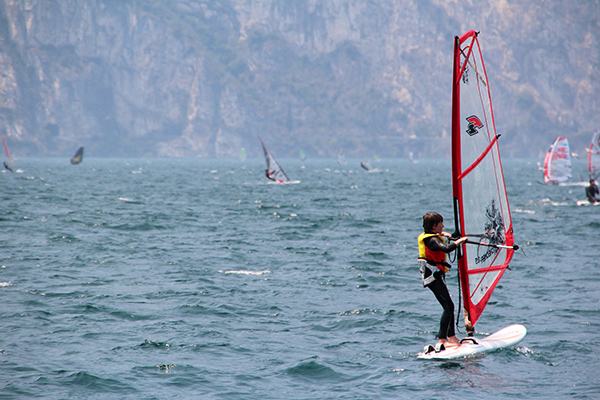 Get summer sorted and start planning your family adventure to Lake Garda, or find out what else the area has to offer with our ultimate guide to the lake.
Pssst. Head to the Discover homepage for our latest articles.