The best time to go on a Lakes & Mountains holiday
Ready to start planning your holiday to Europe but can't quite decide when to go? Well, we've put together a guide to the best things about each month, from May to September, to help you pick the right time for your trip.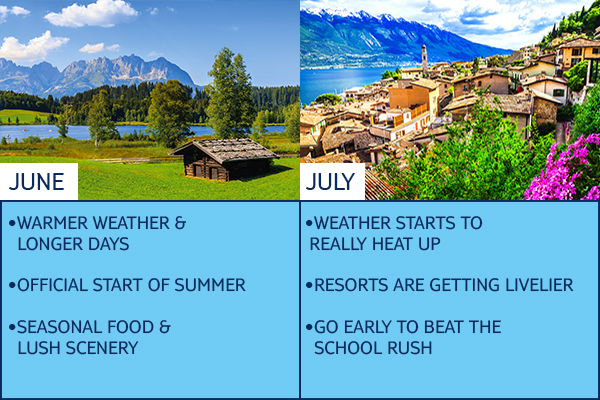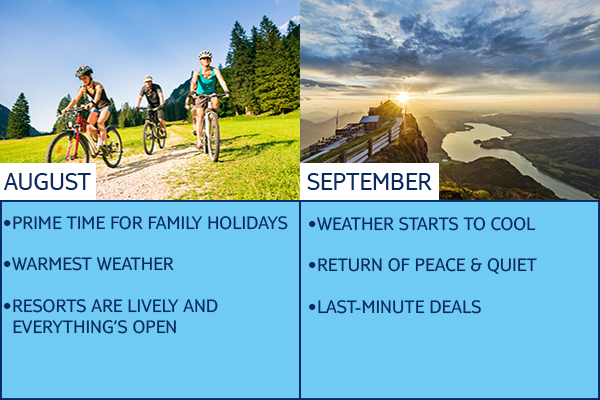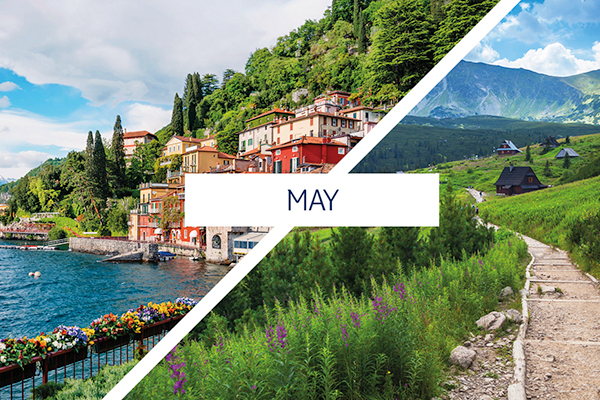 Why go in May?
• Mild weather & spring flowers
• Peace & quiet
• Early-season deals
The start of the summer holiday season actually kicks off in spring, and there are lots of pros to taking a May trip. There's plenty of sunshine but the temperatures are mild – ideal if you want to spend your days being active outside, cycling along lakeside promenades or walking in the mountains, without getting too hot. The flowers are just coming in to bloom too, so you can admire colourful gardens and meadows while you wander.
May's also one of the quietest months. Popular resorts will be less busy and you can explore at your own pace. And that counts for hotels too, so you'll usually get a wider choice of where to stay. Even if you go during half term, it can be a lot quieter than the school summer holidays. Look out for early-season deals to see if you can nab a bargain break.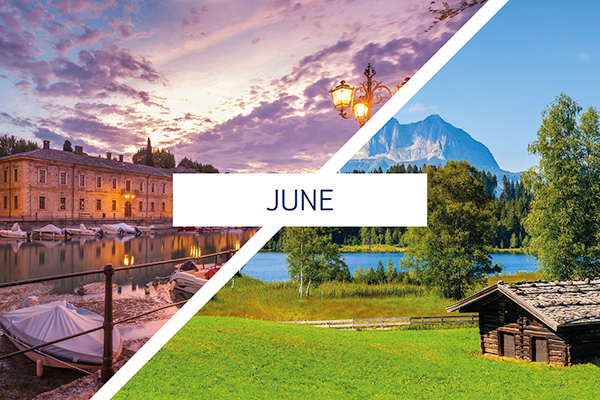 Why go in June?
• Warmer weather & longer days
• Official start of summer
• Seasonal food & lush scenery
June is the golden period for holidays, with a good balance between the weather, peacefulness and prices. It's officially summer but not yet peak season, so the towns are still quiet and you can get a great deal. The weather's starting to warm up too, and the days are getting longer – which means you've got more time to fit in a pre-dinner stroll before the sun goes down. And thanks to the spring rains, the scenery's lush and the views are prettier than ever.
This is also prime time for produce. Lots of summer ingredients are coming into season across Europe, so look out for things like fresh artichokes, asparagus, strawberries and apricots on restaurant menus, and get a real taste of the local flavours.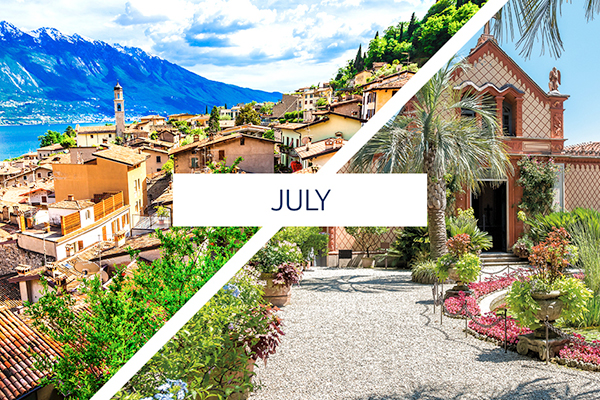 Why go in July?
• Weather starts to really heat up
• Resorts are getting livelier
• Go early to beat the school holiday rush
With schools breaking up at the end of the month, the first few weeks of July are the last chance for couples to beat the rush. And then families can dive straight into celebrating the end of the academic year.
By this point, the sun's out, temperatures are swelling and the resorts are in full swing. Some restaurants, shops and attractions close down in the quieter months – but by July, everything's open and you can really get stuck in. And if you're still looking for a peaceful retreat, you can always head to a less well-known resort with a more laid-back feel.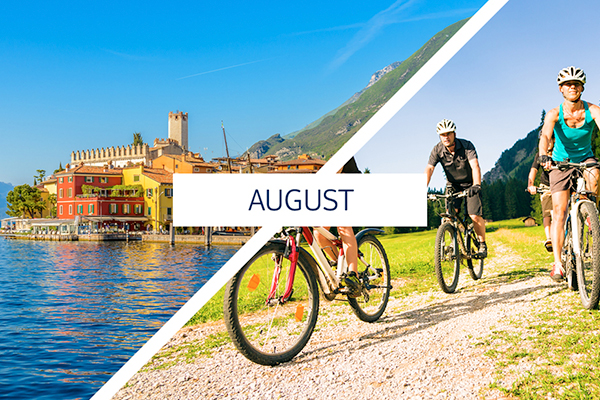 Why go in August?
• Prime time for family holidays
• Warmest weather
• Resorts are lively & everything's open
There's a reason this is the most popular month – August is what summer holidays are all about. Spend long, sunny days lazing on the shore of a lake, taking lifts to peaks to gaze at some of the best views in Europe, and sitting outside pavement cafés with a cool spritz or ice cream.
Families can explore the great outdoors together, try new activities like hiking and watersports, and have fun at Lake Garda's theme parks. If you're travelling solo, you can soak up the lively atmosphere and get to know the locals. And just like in July, there are plenty of quieter resorts to choose from if you'd rather avoid the hustle and bustle.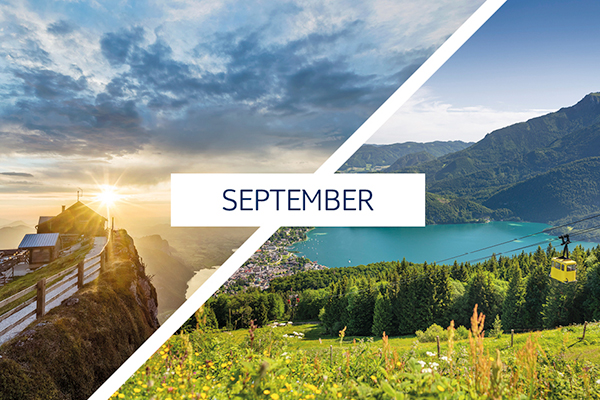 Why go in September?
• Return of the peace & quiet
• Weather starts to cool
• Last-minute deals
September is the sweet spot if you want a final burst of vitamin D before autumn. Once the peak season is over, the peace and quiet make a comeback in Europe's most popular resorts. And since it's less busy, you'll be back to getting a wider choice of hotels and can snap up a last-minute deal. The weather starts to settle and cool now too, which is why this is one of the best times to go walking in the Alps.
And of course, it's not all about unwinding. Lots of towns like to see out the summer in style, so look out for festivals like the September Carnival on Lake Garda or Almabtrieb in Austria – when farmers decorate their cows with flowers and lead them down the mountain from their summer pastures.
Now you know when to go, you just need to pick where. Find out more about our Lakes & Mountains destinations and start planning your next holiday.
Pssst. Head to the Discover homepage for our latest articles.