Best hotel pools in Europe's lakes and mountains
Summer holidays and swimming go hand in hand – whether you like to start the morning with a few laps, just want a quick dip, or love to spend a whole day lounging around the water. So we've rounded up our favourite pools from across our Lakes & Mountains hotels, from natural bathing ponds to multi-pool complexes.
Europe's biggest floating pool: Hotel Britannia Excelsior, Cadenabbia, Italy
If you don't want to choose between spending your day at the lake or pool, this is the hotel for you – it's got the biggest floating pool in Europe, sitting right on the waters of Lake Como. You can take a swim to cool off then lie back on a sun lounger and soak up some rays, get stuck into a good book or just enjoy the views across the water towards Bellagio. There's a pool bar too, to keep you topped up with cold drinks, cocktails and snacks.
As for the hotel itself, it's a classic 3-star pick with simple but elegant décor and all-inclusive meals and drinks – not to mention those amazing views wherever you look.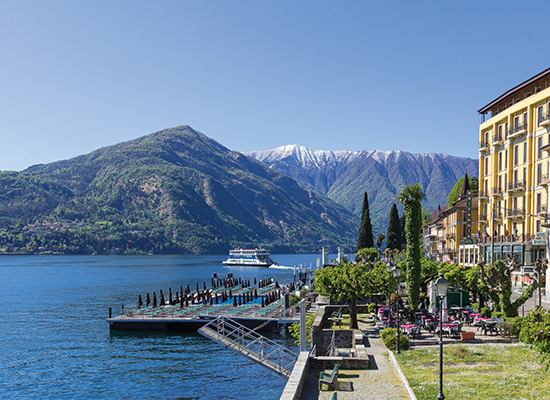 Natural bathing pond: Hotel Bergland, Söll, Austria
For an authentic Austrian experience, you can't go wrong at the Bergland. This family-run hotel has a proper Tyrolean look and feel, from the chalet-style exterior and flower-filled balconies, to the friendly staff.
And the best place to soak it all up is around the outdoor bathing pond – it's designed to look like a natural feature, with rocky edges, plants and clear, cool water. Go for a dip in the morning or before dinner, or just sit back on the decking and admire the views of the surrounding mountains and meadows.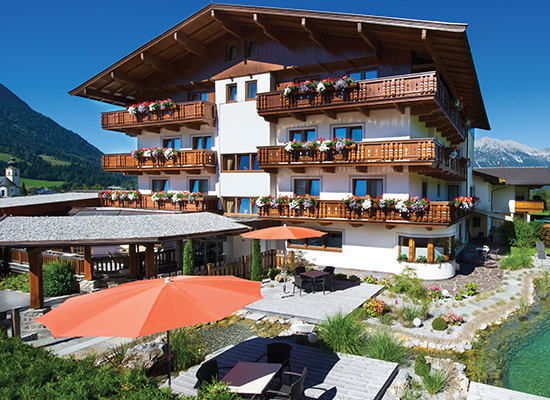 Modern, eco-friendly complex: Hotel Aqualux Spa & Suite, Bardolino, Italy
This stylish hotel on Lake Garda has plenty of stand-out features – but our favourite is the pool complex, which has eight pools in total. Indoors, there's a feature pool with waterfalls and hydromassage beds, a kids' pool and an elevated whirlpool that hovers above the rest and is reached by a bridge. There's also a pool that connects to one of the outdoor pools, so you can swim between the two. Further outside, there's a saltwater pool, whirlpool and another kids' pool. With so many options, you really are spoilt for choice.
Surrounding it all, there are neat lawns with plenty of loungers – not to mention a pool bar – so it's the perfect place to while away those long, sunny days.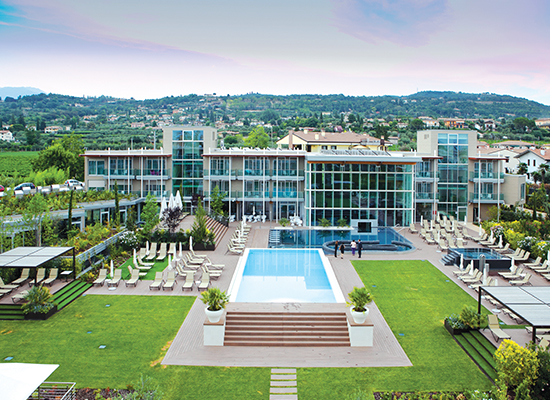 Luxury pools for all: Hotel Salzburgerhof, Zell am See, Austria
For all-out luxury, look no further than this a 5-star-superior hotel on the shore of Lake Zell.
You won't need to stroll to the lake when you fancy a swim though, thanks to the four pools here. The indoor pool is connected to the outdoor one, so you can drift between them. And the garden also has a 20m sports pool with water currents for resistance training, a whirlpool and a natural bathing pond. Surrounding them is a Feng Shui garden, where you can unwind among plants and waterfalls. Or for a different kind of relaxation, visit the Brine Dome to float in saltwater that's heated to 34°C, giving you a feeling of weightlessness and calm.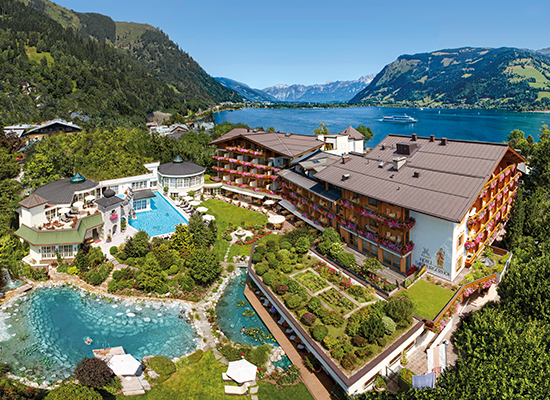 Outdoor & indoor variety: Hotel Caesius Thermae & Spa, Bardolino, Italy
Families and couples coming to Lake Garda love to stay at the Caesius for its range of pools and spa. Outside, there are five pools spread across the complex, including one with hydromassage jets and two that are just for kids. In between them, there are spacious gardens where you can relax.
There's also a spa with several more indoor pools, including a saltwater pool. Those ones are heated to a balmy 34°C and are filled with thermal water that's said to help restore balance and boost vitality.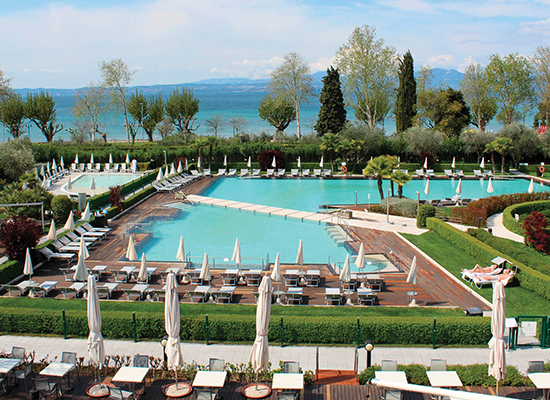 Thermal spring pool: Hotel Grand Toplice, Bled, Slovenia
Wellbeing is at the heart of everything they do at the Toplice. The first spa was built on this spot in 1854, after thermal springs were discovered there. And these days, the 5-star hotel uses that same water to fill its Roman-style indoor pool.
Thermal water flows straight from the underground springs into the pool and is refilled every morning. It stays at a constant temperature of 22°C – just right for a refreshing dip – and is supposed to have a beneficial effect on your body, including your heart and circulation. The large windows overlook Lake Bled, just metres away, where there's also a private lido so you can sunbathe and swim in the lake too.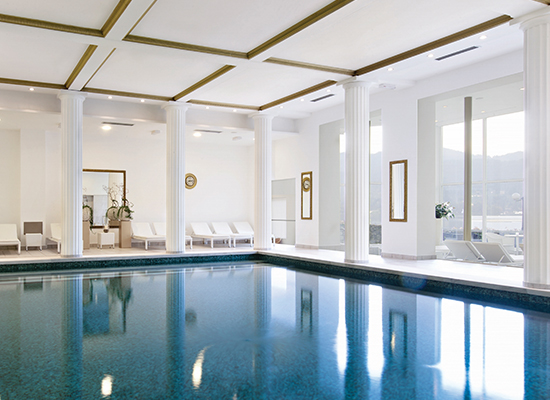 Rooftop pool with panoramic views: Hotel Kristal Palace, Riva, Italy
Swim and lounge while surrounded by beautiful scenery at the Kristal Palace. Here, the rooftop Sky Pool terrace has some of the best panoramic views around, overlooking Riva and Lake Garda. And if you want a closer look, take a peek through the Sky Eye binoculars.
The pool itself is heated to 26-28°C, and in between swims, you can just lay on a sunbed and soak up the sights. In the evenings, head back up there to listen to live music and sip a cocktail from the Sky Bar as you watch the sun go down.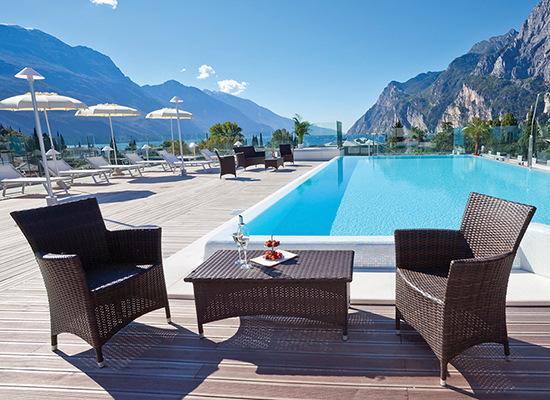 World's first floating whirlpool: Hotel Im Weissen Rössl, St Wolfgang, Austria
One of the most famous hotels in Austria, the White Horse Inn dates back to the 1640s. It's kept lots of its traditional features, while also adding modern touches like the outdoor pool that floats on Lake Wolfgang – so you can easily hop between the heated pool and lake, while enjoying 360-degree views of the Salzkammergut mountains. And next to the pool, there's another deck with what's said to be the world's first floating whirlpool.
For some pampering, head inside to the spa to swim in the indoor pool and try out the sauna, steam room and infrared cabin.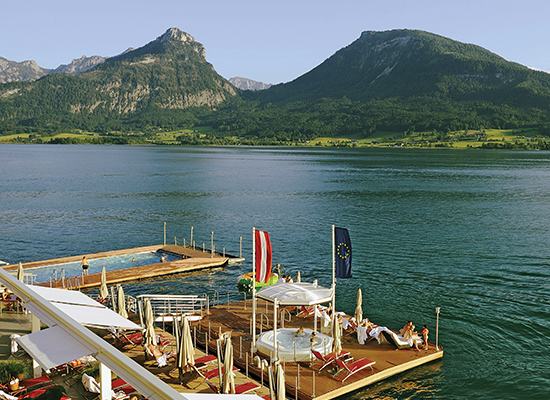 Ready to dive in? Find out more about our Lakes & Mountains holidays and start planning your next trip.
Pssst. Head to the Discover homepage for our latest articles.