A-Z of must-try European drinks
Dining like a local is one of the best things about going on holiday – and you'll find a whole menu of regional drinks to go with your pasta and schnitzel. Whether you choose a glass of wine, a cool beer or a smooth spirit, you're bound to find a new favourite from this list.
Almdudler – Austria
Nicknamed the national drink of Austria, this soft fizzy drink has been around since 1957 and is now one of the most popular in the country. It's made from a mix of 32 alpine herbs so it's a pretty unique taste that makes a great mixer or alternative to alcohol. And it's the perfect thing to drink in the mountains – the name comes from a German phrase that means 'yodelling in the alpine pasture'.
Aperol Spritz – Italy
Invented in the 1950s, this classic cocktail has become a symbol of summer and is even gaining popularity in the UK. The staple ingredient is Aperol, a bitter orange aperitif that's got a love-it-or-hate-it reputation. To make the spritz, mix it in a wine glass with Prosecco and soda water, and top it with ice and orange slices.
Chiaretto wine – Italy
Lake Garda's Bardolino is so proud of its dry, sparkling rosé that it throws a festival to celebrate it every June. It was first created in 1896 using red wine grapes and white winemaking techniques, and is named for its light pink colour – 'chiaro' means 'clear' or 'pale'. The popular aperitif has got a delicate taste with hints of citrus, apricot, berries and vanilla, and pairs perfectly with Mediterranean fish dishes.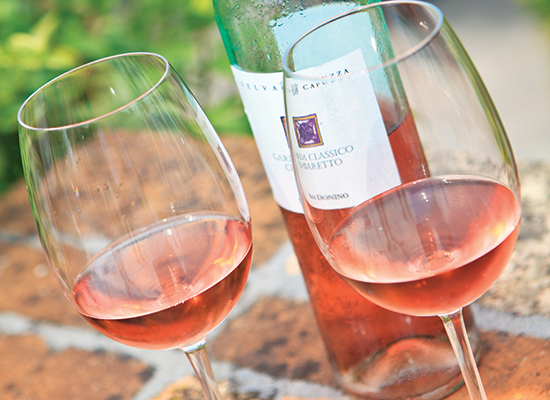 Grappa – Italy
Grappa can only be called grappa if it's made it Italy, and it's got a long history with the locals of Trentino and Lake Garda. Created by fermenting the pomace that's left over from winemaking (that's the grape skins, pulp, seeds and stems), it's then flavoured with herbs, berries and roots. The result is a popular after-dinner drink that's supposed to aid digestion. It's often used in cooking too, or added to espresso to create caffè corretto – 'corrected coffee'.
Hugo Spritz – Everywhere
There are few things more refreshing on a warm day than a Hugo Spritz – made with a mix of Prosecco, elderflower syrup and soda, topped with mint and lime. It was created by a barman in the South Tyrol region of Italy in 2005, as an alternative to the traditional white wine and soda spritz – and is now one of the most popular summer cocktails in Italy, Austria, Switzerland and Germany.
Kaiserspritzer – Austria
Also called the Emperor spritzer, this is Austria's version of the Hugo Spritz. It uses a similar blend of white wine, elderberry syrup and soda, but leaves out the mint and lime – so it's a bit sweeter but just as refreshing. Look out for it in restaurants and taverns for a cooling pick-me-up on a warm day.
Kirsch – Germany & Switzerland
Properly called kirschwasser (meaning cherry water), this spirit was invented in the Black Forest region of Germany and is now popular all over the country – and it's a favourite in neighbouring Switzerland too. The clear brandy is distilled from cherries and has a fruity, bitter taste. Try a cold glass as an aperitif or drink it at room temperature after a meal. Or for a proper treat, you can also add it to desserts – think Black Forest cake – as well as cheese fondue and even coffee and tea.
Limoncello – Italy
One of the most famous digestivi in Italy, limoncello is still made in some parts of Lake Garda. The simple concoction mixes grain alcohol with lemon zest and sugar syrup. The cooler climate at the north of the lake results in fragrant, sour lemons and a limoncello that's subtly sweet, tart and refreshing. Try a chilled glass at the end of a meal. But don't down it like a shot – limoncello should be sipped and savoured.
Lugana wine – Italy
If you're more of a white wine fan, you'll love this pick from the southern shores of Lake Garda. The grapes are grown in a special type of clay soil that gives them a refreshing, full-bodied taste – resulting in one of the finest wines in Europe, which pairs perfectly with all that pasta and pizza you'll be eating. In September, you can visit Sirmione to celebrate this tipple at the Lugana Grape Festival.
Radler – Germany & Austria
Invented in Germany, this mixed beer drink is popular in summer thanks to its thirst-quenching reputation. Radler means 'cyclists' in German, and the story goes that it was created by an innkeeper on a popular mountain cycle route. Swamped with thirsty customers and short on stock, he mixed lager with lemonade to make his supplies last longer. This 50:50 blend is now drunk all over Europe – and even as far as Australia and New Zealand. In Austria, a Radler is a mix of beer and Almdudler.
Schnapps – Austria
Austrians have been producing schnapps for centuries, so you know they've got it down to a fine art. Fruit (or obstler) schnapps is most common, flavoured with plum, apricot, pear, blackberry or cherry. But the Tyrol region, which has the highest proportion of schnapps distilleries in Austria, favours vogelbeerschnaps. It's made with rowan berries and is a common tipple to wash down a rich dinner. In mountain huts, you might be greeted with a shot of gentian schnapps, an acquired taste thanks to the intense bitterness that comes from the gentian plant.
Stiegl beer – Austria
Stiegl is the official beer of Salzburg – quite an honour in the capital of a beer-loving country. It's been brewed in the city since 1492, in what's now the largest private brewery in Austria, which also has a museum, tasting room and restaurant. Quality is key, and the family-run business has an estate in Upper Austria where they grow their own spelt, oats and wheat. Speciality house beers come in flavours like juniper, coriander, rye and, at Christmas, honey and cinnamon.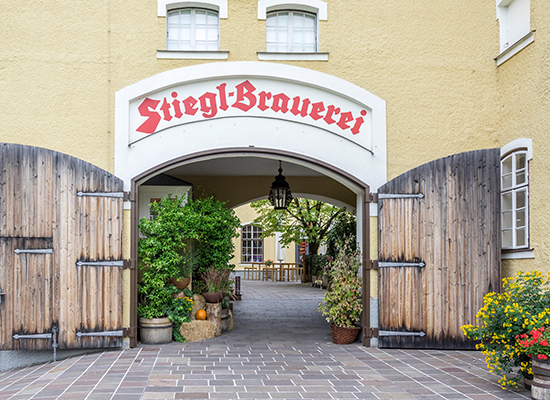 Zganje – Slovenia
If you're in Slovenia, don't miss out on trying its version of schnapps. One of the most historic and popular drinks in the country, you can find it in most shops and bars – though many locals still make it at home. Look out for flavours like viljamovka (pear), borovnica (blueberry) and medica (honey).
Eager to get a real taste of Europe? Take a look at our latest Lakes & Mountains deals.
Pssst. Head to the Discover homepage for our latest articles.