5 reasons to fall in love with Tuscany
Rolling hills covered with olive groves, wheat fields and vineyards as far as the eye can see – Tuscany's well known for its distinctive landscape. Ancient castles, terracotta-roofed farmhouses and hilltop villages break up the natural patchwork. And all of our Lakes & Mountains holidays to Tuscany include car hire, so you can explore the region to your heart's content. Here are five of our favourite things to do in Tuscany.
Visit rural communities
Etruscan walls, built hundreds of years ago to keep out invaders, still surround the towns and villages – authentic communities where traditions thrive and you won't spot any modern buildings. Take a trip to the romantic town of Montaione and visit the oval-shaped castle. Or make your way to San Gimignano, a UNESCO World Heritage Site, to wander among the 15 medieval towers.
Taste local wines
Flourishing vineyards stretch across the countryside, bordered by tall cypress trees to protect them from the wind. If you fancy sampling some Tuscan tipples, stop off at one of the many cantinas in Chianti to tour the cellars and try the famous vintages. Or head to Montecarlo, a 14th-century village that's famous for winemaking and produces some of the best white varieties in the region.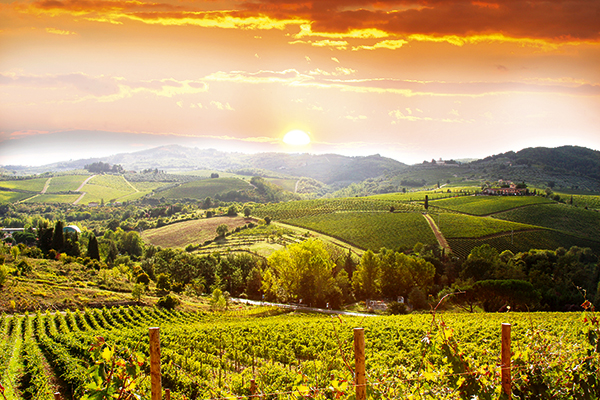 Explore medieval cities
You'll also find some of the most famous Italian cities in Tuscany.
• Spend a day in Florence to stroll around the beautiful Boboli Gardens, browse the shops that line the Ponte Vecchio bridge, and see works by Michelangelo and Leonardo da Vinci in the art galleries.
• Visit Siena, often called Italy's loveliest city. It sprawls across seven hills and is home to the Piccolomini Library, filled with religious and artistic treasures, and the Piazza del Campo, site of annual Palio horse race.
• In Lucca, you can hire a bike and cycle around the ancient wall that circles the city, admiring the panoramic views as you go. Or follow your feet and see how many of Lucca's churches you can find – it's got over 100.
• Go to Pisa to snap photos of the famous leaning tower and grand 11th-century cathedral, walk along the River Arno and wander among exotic plants in the Botanical Gardens.
Try regional food
Tuscan cooking is known for its peasant roots, meaning that many recipes are based on classic ingredients like meat and beans – and proving that simple dishes can be the tastiest. In Florence, make sure you try the ever-popular bistecca alla Fiorentina. This big T-bone steak comes from a local breed of cow, and is cooked over hot charcoal and served rare. Over in Siena, the must-try treat is panforte, a sweet and spicy cake made of nuts and candied fruit.
See coastal towns
Gentle, lapping waves and golden beaches are within reach in Tuscany too. You can drive from all of our accommodations to the coastal towns of Forte dei Marmi and Viareggio in less than two hours. With its designer boutiques and stylish beach clubs, Forte dei Marmi is ideal for celeb-spotting. And for families, traditional Viareggio has shallow waters, soft sands and restaurants serving up freshly caught seafood.
Tempted by Tuscany? Take a look at all of our Lakes & Mountains holidays to the Province of Florence and Province of Siena.
Pssst. Head to the Discover homepage for our latest articles.